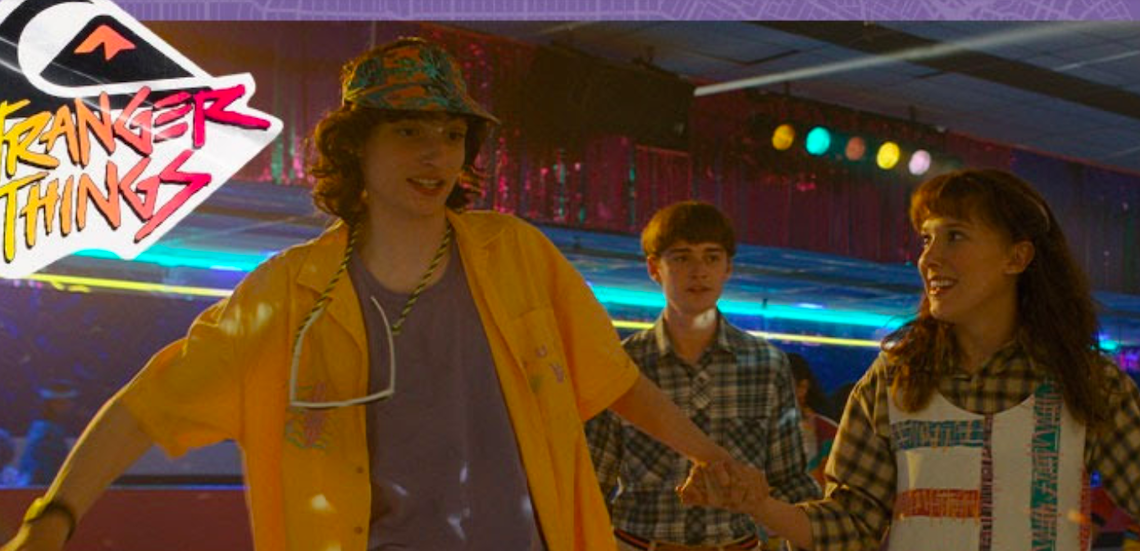 Fashion Briefing: Brands turn to streaming TV for on-screen advertising
On-screen styling
Actors are style influencers, obviously. Everyone knows that what Hollywood celebrities wear at award shows and in social media posts has an impact on the fashion industry. But lately, there's been as much style influence on screen as it is on the red carpet.
In June, California-based surf brand Quiksilver designed an entire collection of nostalgic '80s apparel, created in collaboration with the costume design team from the Netflix show "Stranger Things." Not only are the designs inspired by the series, but the recently released fourth season features several characters wearing the pieces on screen.
Available is a yellow beach button-up shirt worn by Finn Wolfhard's character, Mike, in a skating rink scene, along with a pair of yellow-tipped shorts, for example. Also shown are a denim jacket worn by the character Nancy and blue cuffed pants worn by the character Steve Harrington.
"Stranger Things" has become particularly known for the '80s styles its characters wear. For Quiksilver, the chance to be the main supplier of these styles and have them available for purchase online simultaneously with the release of the season was too good to pass up.
"We were able to revive classic styles from the 1986 and 1987 Quik archives to bring them in line with 'Stranger Things' [season] 4, creating specific apparel for cast members and consumers," said Quiksilver Product Developer Andrew Henry. "1986 was a quintessential time for surfing and Quiksilver, with the Echo Beach era identifying California as the epicenter of surf culture. Working closely with 'Stranger Things' costume designer Amy [Parris]allowed us to create clothing for the Season 4 characters that is so true to the 80s era, building on Quiksilver's fashion influence of that era in a way that fits so naturally into the plot of "Stranger Things".
"Stranger Things" has a massive following, especially among Gen Z. The fourth season has been on Netflix's Top 10 list for 11 consecutive weeks since its release, with 930 million hours viewed in June only.
Sperry, the New England boat shoe brand, has also drawn from film and television. While Sperry previously worked with Netflix through a licensing deal for a collection inspired by the teenage mystery show "Outer Banks," those products were never worn on the show. But starting next year, Sperry will wear a number of its products on the upcoming second season of Amazon Prime show "The Summer I Turned Pretty."
"[The show] is another coastal show for young adults [like 'Outer Banks'] which fits our aesthetic really well," said Elizabeth Drori, CMO of Sperry. "It helps us generate excitement, especially with younger customers."
"The Summer I Turned Pretty" is another show with a large following of Gen Z fans. The show's hashtag, #thesummeriturnedpretty, has been viewed over a billion times on TikTok.
The Sperry and Quiksilver collaborations are standard product placement agreements, with the brand paying the production company in advance to secure placement of its products in the show. Product placement in television is a $23 billion and growing industry, especially in the age of streaming television. Amazon and Peacock have recently tools unveiled it would even allow brands to digitally insert their products into a living room after the fact, further expanding the possibilities for product placement, although neither Sperry nor Quiksilver use similar tools.
But bringing a product to a show isn't always easy. Courtney Wheeler and Cristina Spiridakis, the costume designers behind Hulu show "The Bear," which received widespread attention for meticulously dressed characters said that they don't usually choose clothes for the characters they dress based on what the brands want.
"It's possible. It's more likely to happen on bigger movies and TV shows where the art department works directly with a brand and a deal is struck," Wheeler said. not our thing."
Instead, she said the only thing they took into consideration was whether the clothes matched the character and suited the story. Sometimes brands may send them free clothes in hopes they'll end up using them on the show, but often those clothes are clearance items and just end up on background characters.
Spiridakis said brands also need to consider seasonality, another obstacle to getting their clothes on the small screen.
"We work on a show sometimes up to a year before it comes out," Spiridakis said. "It's not like a magazine or a music video, which will come out earlier and brands can put their current season stuff in there. There's not as much editorial accolade for something that won't be out for a year.
Quiksilver got around this problem by working with "Stranger Things" well in advance, spending three years planning the costumes and designing them to be released alongside the show. More off-the-cuff partnerships are much harder to pull off, Spiridakis said.
Luxury brands are sheltered from the worst of inflation
Earnings calls for luxury brands throughout the week didn't show much impact from inflation, thanks to their higher prices and more affluent consumers.
Ralph Lauren and Capri Holdings both saw revenue rise 8-9% last quarter, and inventory investment rose 66% and 47%, respectively.
At Canada Goose, revenue grew 24% last quarter, with DTC revenue performing particularly well, growing nearly 20%.
These brands, each with customers who tend to be in higher income brackets, don't base their value on the great deals they offer. Their customers are used to high prices and pay for quality and brand. Small price increases don't affect them as much as a brand like H&M, where the low price is a selling point.
"We have a long history of taking price above cost inflation, and that's based on the quality and functional value our products provide," said Jonathan Sinclair, Executive Vice President and Chief Financial Officer of Canada Goose. , during the brand's first-quarter earnings call. Thursday. "Our differentiated level of operation as a vertically integrated manufacturer and with most products made or sourced in Canada and higher average unit prices also helps to mitigate some of the inflationary pressures."
Reading list
Will couture break the dominance of streetwear in menswear?
The future of investing includes Birkins, Rolex and JLo's jungle dress
Stadium Goods on how to launch a web3 branded event