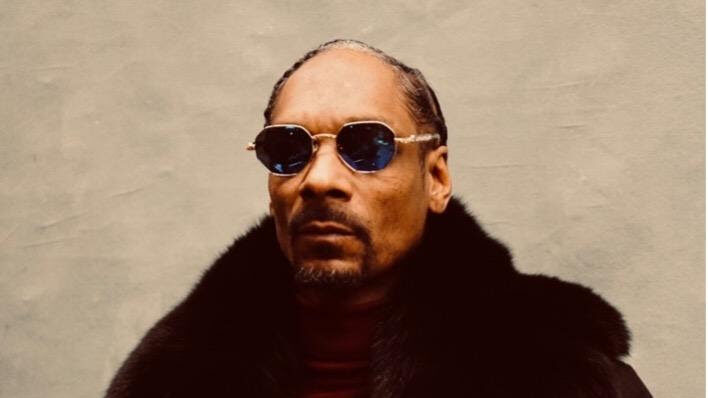 Snoop Dogg Signs With Talent Agency WME For All-Around Representation
WME has signed hip-hop legend Snoop Dogg across the board.
According to a press release announcing the news, WME will work with Snoop "and leverage the Endeavor Network to continue his work" in music, film, television, business and digital.
Snoop says "WME is the only place that can manage the career I've built and grow it even further".
Snoop's new deal with the talent agency follows a busy few months for the American rapper and entrepreneur.
In February, Snoop Dogg acquired the legendary Death Row Records of the MNRK Music Group.
At Death Row, Snoop Dogg handles all label and catalog activities in music, movies, apparel, and merchandise, while signing new artists and re-releasing legacy Death Row music. He is also in development for a Death Row TV series.
Snoop recently served as Creative and Strategic Executive Advisor at Def Jam where he focused on A&R and creative development.
Described in a press release as an "entertainment industry mogul", Snoop Dogg has released 20 studio albums, sold over 40 million albums worldwide, reached number 1 countless times on the Billboard charted internationally and received 20 Grammy nominations.
Elsewhere in 2022, Snoop Dogg won a Primetime Emmy Award for his performance on the Pepsi Super Bowl LVI Halftime Show.
His previous accolades include Executive Producer of the Emmy-winning documentary When Claude got shot, an Emmy nomination for his role as executive producer and co-host of VH1's hit show Martha & Snoop's Potluck Dinner, executive producer of MTV's Mary + Jane, executive producer and host of TNT's game show Joker's Wild, and executive producer of netflixon Coach Snoop.
His filmography includes hundreds of credits, including roles in classic films (Training Day, Half Baked, Soul Plane, Dolemite Is My Name) and countless television appearances including The Simpsons, Brothers and The Bernie Mac Show. .
Under Death Row Pictures, Snoop is producing film projects including MGM's The Underdoggs starring Kenya Barris, which he will also star in. Last year, Snoop also starred in Day Shift with Jamie Foxx, which reached number 1 on the Netflix movie charts and he also launched a children's show on Youtube named Doggyland.
In 2019, Snoop was recognized with a star on the Hollywood Walk of Fame and was also inducted into the Celebrity Wing of the WWE Hall of Fame.
"WME is the only place that can manage the career I've built and grow it even further."

Snoop Dogg
Snoop Dogg said, "WME is the only place that can take the career I've built and grow it even further."
"I look forward to doing this with the WME team to continue innovating across music, film, television, business and digital and breaking down barriers in entertainment."
Snoop is described in WME's media statement as "the ultimate multi-hyphenated entrepreneur" with business ventures spanning entertainment, esports, fashion, food and beverage, cannabis, Web3 and technology.
He serves on the board of FaZe Clan, Inc. Snoop Dogg has also been particularly active in the NFT space over the past year. In February, for example, it sold more than $44 million from NFT in just five days around the release of his twentieth studio album, BODR (Bac on death row).
His other ventures in NFTs include Dr. Bombay and his Bored Ape Yacht Club Collection NFT.
Earlier this year, Snoop also opened a storefront, Snoop Dogg's Clothing, in Inglewood, California, which features exclusive products from its clothing collections.
In early 2023, a Funko store curated by Snoop will open in the same plaza next to Snoop Dogg's clothing store. Elsewhere, Snoop Dogg started Broadus Foods, a family-owned food company, whose mission is to make a difference in the lives of families and communities.
His long legacy of philanthropic work includes the Snoop Youth Football League, a non-profit organization providing opportunities for inner-city children.
In 2017, SYFL added the Snoop Special Stars Football and Cheer division serving all special needs children and young adults (5-18+) with physical and intellectual disabilities.The music industry around the world